Explore the ruins of the Angkor Archeological Park
Not a lot of people know this but Angkor was the capital city of the Khmer Empire and the popular Angkor Wat is just one of the thousand of temples in the huge expanse of the Angkor area — which mind you, is a UNESCO World Heritage Site.
Now, unless you're a Cambodian, you need to buy an 'Angkor Pass' to visit the Angkor Archaelogical Park's temples (which like I said encompasses Angkor Wat, as well as the equally famous Bayon temple, Ta Prohm and many others).
Where to buy the Angkor Pass? At the Angkor Ticket Centre which is found on the corner of Road 60 and Apsara Road. If you've booked a tour or a tuk-tuk charter, they know where it is and they'll bring you there before entering the park. (Please keep your tickets with you at all times sinc eif you're caught without it, you'll be prosecuted and handed to the police with fines that can reach up to $300).
How much is the Angkor Pass? It depends on how many days you'll need it for but most of the time, you'll only need just the 1-day pass. (Children under 12 years old don't need these passes; also take note that you can pay with your credit card or with cash in Khmer Riel, US Dollars, Euros and Thai Baht; but they will only give you change either in $ or riel).

1-Day Pass: $37
(if purchased after 5PM, it's only valid for the next day)
3-Day Pass: $62
(valid for 10 days, so you don't have to plan your visits consecutively)
7-Day Pass: $72
(valid for 1 month, so you don't have to plan your visits consecutively)

At what time of the day can I use the Angkor Pass? Most temples inside the park can be visited from7:30AM to 5:30PM except for…

Angkor Wat and Srah Srang: open from 5AM to 5:30PM to make way for sunrise viewing
Phnom Bakheng and Pre Rup: open from 5AM to 7PM to make way for sunrise and sunset viewing
"Do I need a tour guide?" Honestly, not really because you can easily explore Angkor Wat on your own. However, if you want to enhance your visit even further, I suggest booking an Angkor tour with a licensed guide so that you can get a deeper understanding of the temple complex's history and background. (Beware of people or even children who offer their 'touring services' at the temples because they are mostly charging high fees — plus, they're not even proper licensed guides).
Now obviously, like I said, there are over a THOUSAND of temples in Angkor but below are some of the top picks that you must check out for your Siem Reap itinerary!
* * * * *
» Visit Angkor Wat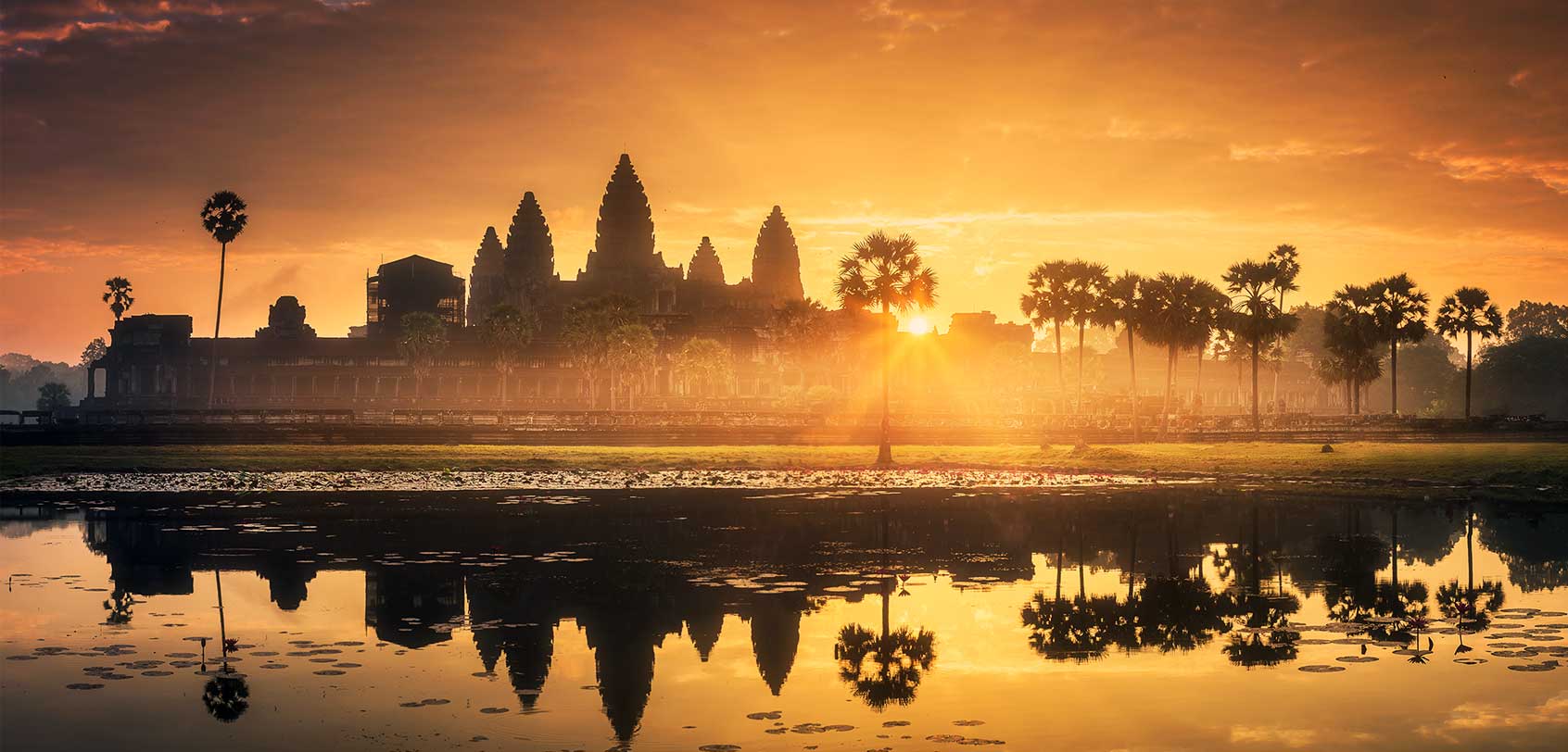 Photo from Boule/Shutterstock
Obviously, this is a must to see as the 'centerpiece' of the Angkor complex. As the largest religious monument in the world, Angkor Wat was originally made as a Hindu temple for the god Vishnu for the Khmer Empire, but it was gradually transformed into a Buddhist temple by the end of the 12th century.
To get that magical shot, I suggest heading to Angkor Wat before sunrise; in fact, most rented tuk-tuk drivers or Angkor tours will pick you up at around 4:30AM.
Once there, the first thing you'll likely be doing is securing a spot on the left pond by the entrance… along with hundreds of other tourists. It's crazy, really, but the view will be worth it (weather-permitting)!
TIP: Most people head for the left pond, but if you want a lesser crowd, stand by the right pond for a different angle.

Other people also like the nearby 'Srah Srang' or the 'Royal Baths' for sunrise views. It's basically a reservoir and the view over the water as the sun hits it is quite a glorious view!

Otherwise, there is now an option to ride a hot air balloon in order to see Angkor in its full glory. Check out this website for more details. They typically only do 2 flights per day, during sunrise and sunset. 
After you get that golden shot, there are two options for you: to go explore Angkor Wat with the rest of the crowd (often huge groups of tourists who are on a big bus tour) OR come back later after/during lunch with not many people. It's entirely up to you, but if you ask me, I preferred to do the latter since most tour buses leave at lunch time, and it was much easier to go through the Angkor wat temple and take photos.
Once inside Angkor Wat, you'll come to see that it's a big expanse, and that if you're into details, you might need a whole day to explore everything. But if you're pressed on time, it's best to arm yourself with a guide book — or better yet, a licensed tour guide.
For a hassle-free experience, I'll discuss the different kinds of tours that covers the Angkor Wat and the whole of the Archeological Park at the end of this section.
* * * * *
» OPTIONAL: Grab an early brunch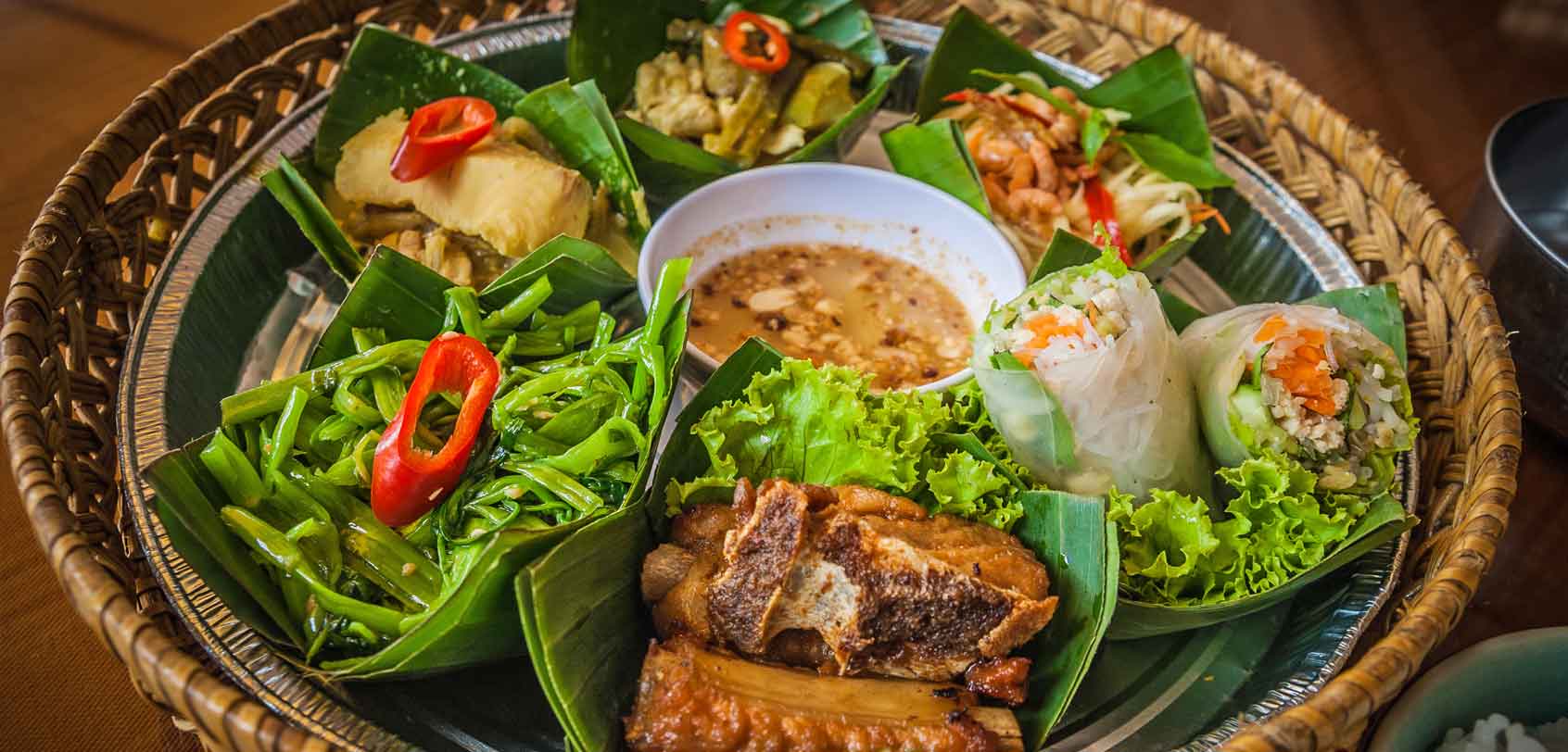 Photo from GuoZhongHua/Shutterstock
Like I previously mentioned, you can continue to explore the rest of Angkor Wat or retreat from the crowd and come back later.
So if you choose the latter, this is the perfect time to grab a quick nap (after waking up so early) or an early brunch. For this, I would highly recommend Wat Damnak for some great Cambodian dishes. Besides, this restaurant has  earned a spot on the Asia's 50 Best list of restaurants for two times already, so that means a lot!
* * * * *
» Head to Angkor Thom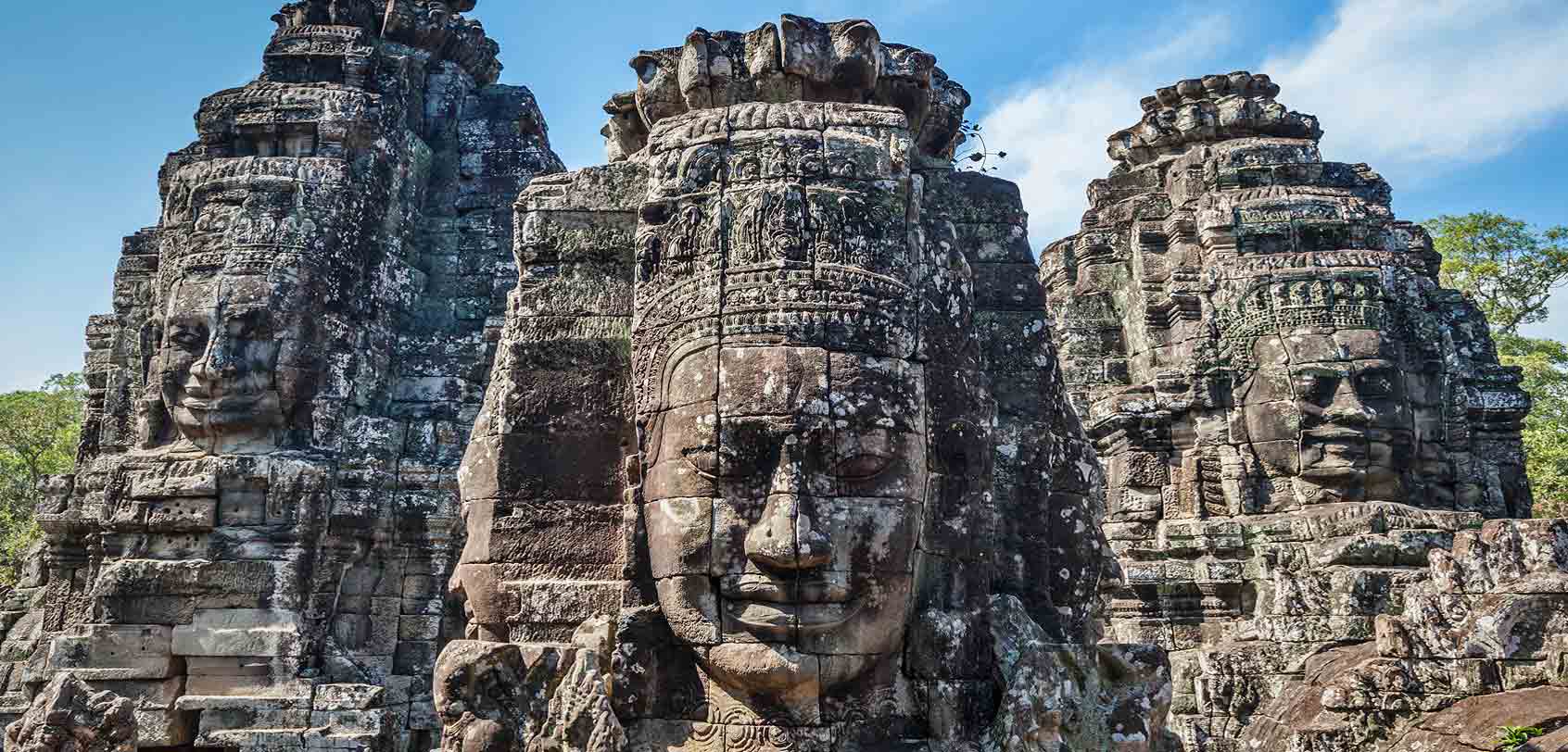 Photo from Dmitry Rukhlenko/Shutterstock
Angkor Thom was a moated royal city and it served as the last capital of the Angkorian empire.
Its grand 5 grand entrances still stand today in which each of them have giant Buddhist faces that are framed by elephants and adorned by lotus flowers. These gates stand on each axis and the Victory Gate is just beside the East Gate that leads to the Royal Palace's terrace.
Victory Gate

North Gate

★

South Gate

: the most popular entrance (as pictured here) as it is the most preserved one, and I just loved how it is lined up with 54 figures of devas/gods

West Gate

East Gate

: or Death Gate as it is "allegedly" the only entrance used when transporting a king to his funeral
And of course, at the center of Angkor Thom is Bayon which is a richly decorated temple that's famous for its numerous serene and smiling stone faces. Originally numbering at around 200, these faces are engraved on its towers and made to look like the past Khmer king, Jayavarman VII — but as time passed on, most of them have toppled over. Nevertheless, there are still a number of them that are still intact.
Before you leave though, make sure to drop by the nearby Terrace of the Elephants. This used to be a platform and audience hall in which the king would watch over his army. It is quite a sight given the elephant carvings and life-sized garuda and lions.
* * * * *
» Witness Ta Prohm ('Tomb Raider' Temple)

Originally called as Rajavihara, Ta Prohm used to be a monastery and university — but today, it is known as a famous UNESCO site as well as the famous film location of the Tomb Raider movie.
Unfortunately, after years of heavy looting, many of its ancient stone reliquaries have been lost. The surrounding jungle's great trees and roots have also towered and carved through the walls for years leaving it extensively ruined, yet still aptly mesmerizing.
If you ask me though, apart from being a temple, I deem Ta Phrom as a bit of a maze too (as per the famous Tomb Raider movie feels).After all, if you come here without a tour guide, it's easy to get lost or lose your way on dead end paths — especially if you visit during low season; but of course, you will see enough signs to lead you on the right path too, so no worries there.
NOTE: Please don't climb on any of the rubble (especially if you don't have a guide with you) since they are often unstable and can collapse easily.
* * * * *
» Go for grand sunset views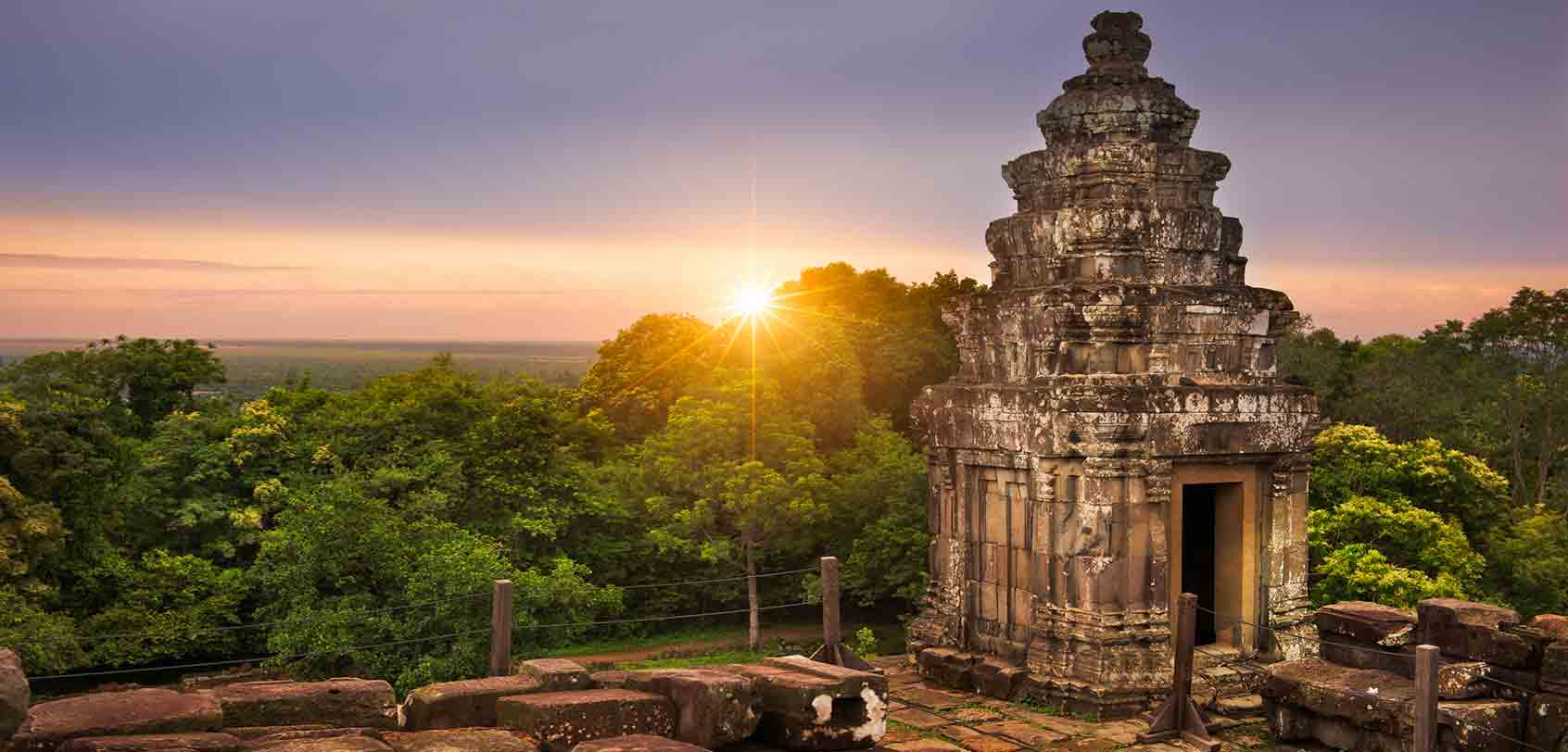 Photo from Joshua Davenport/Shutterstock
There are various options for this as you end your Siem Reap itinerary's first day 'temple run'…
★ Go on a hot air balloon tour overlooking Angkor as the sun sets.
Join an Angkor dragon boat tour that will end the day with nice golden views.
★ Visit Phnom Bakheng which is a Hindu and Buddhist temple that is in the form of a temple mountain or pyramid with 7 levels. You will love the views that it grants over Angkor Wat as the sun goes down.

TIP:

Arrive early at around 4PM to secure a spot on the south-east corner. Take note that in high season, it can get really crowded — and that of course, it helps to bring a zoom lens since Angkor Wat is still about 1km away. Be careful when going down after your sunset viewing since it can get dark pretty fast (it helps to have a flashlight on hand or your phone's flashlight feature).

Go to Pre Rup, another picturesque mountain temple that grants stunning views over the surrounding rice fields.
NOTE: If you want to explore more temples, check by the 'Day #2' and "Extras" tabs above!
* * * * *
.
As I've said before, if you want to avoid the hassle and cover more ground of the Angkor temple complex area, below are various tours you can choose from.
Grand Circuit (Private tour)

Preah Khan Temple
Neak Pean Temple
Eastern Mebon Temple
Ta Som Temple
Pre Rup Temple
Srah Srang Lak
Banteay Srei/Kbal Spean

2-Day Tour (Private tour)

South Gate of Angkor Thom
Bayon Temple
Terrace of the Elephants
Baphoun Temple
Phimeanakas Temple
Angkor Wat
Banteay Srei
Artisan Angkor
* * * * *
» See an Apsara Dance show for dinner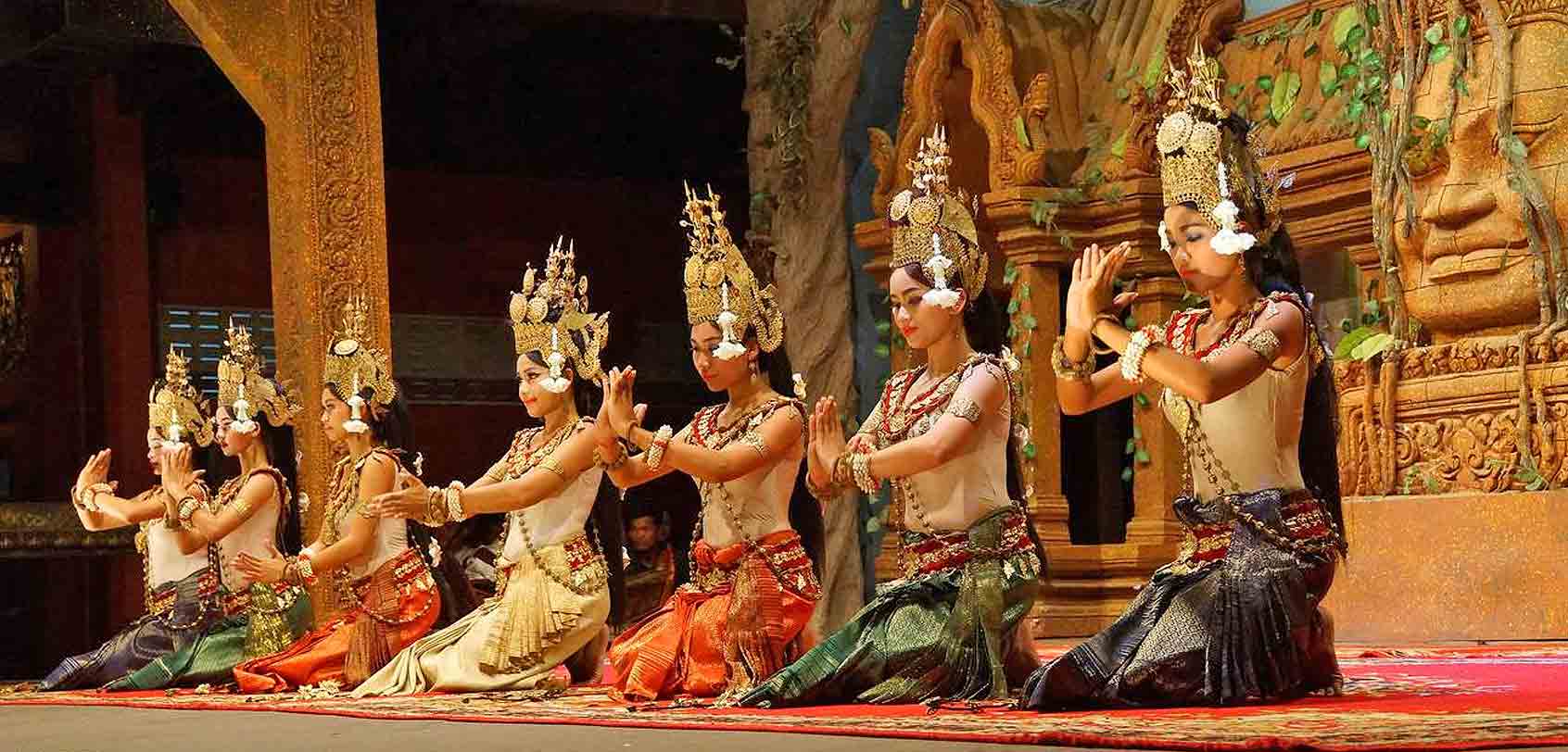 Apsara Dance is an indigenous ballet-like performance art in Cambodia. It was created by the Royal Ballet of Cambodia in the mid-20th century under Queen Sisowath Kossamak and it's an experience that's worth a try!
To date, there are 2 places that you can try it on and both of them already comes with a dinner spread.
Visit temples outside of Angkor
If you still want to explore the rest of the Angkor Archeological Park, head to the tab 'Extras' above to replace the Siem Reap itinerary for this day. Otherwise, if you only have a limited time in the city, it's best to head out to some other temples that are a bit far out.
Depending on the time that you have, you can choose from ANY of the following…
» Phnom Krom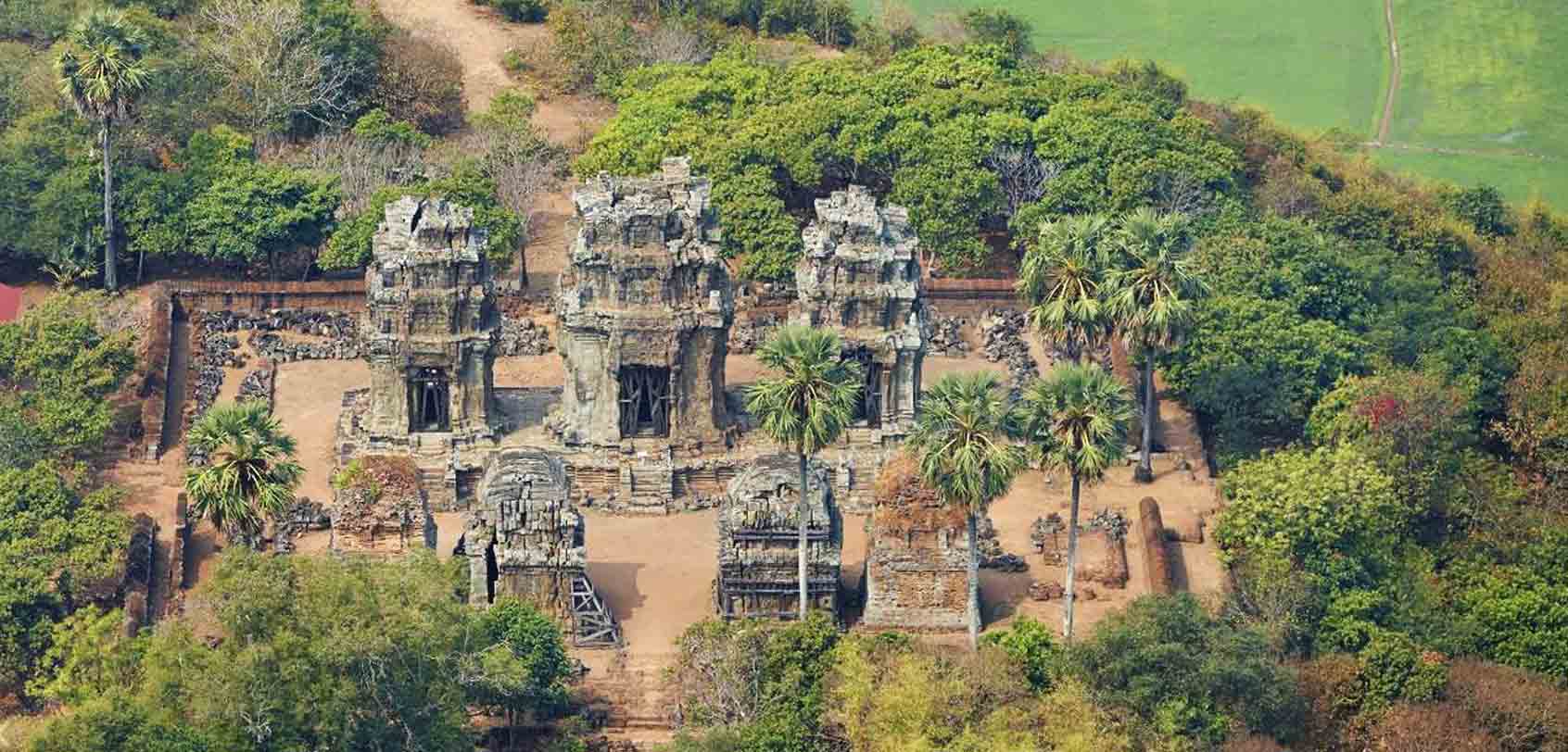 (40 Minutes away) On top of a 140-meter hill near Siem Reap is this spectacular Hindu temple. Its three towers are each dedicated to a Hindu god: Brahma for the south, Shiva for the central one, and Vishnu for the north.
To enter, you can use your Angkor Pass, otherwise, you'll pay a small entrance fee. Just take note though that you'll have to go up a long flight of stairs to get to the top — but I assure you, it will be worth it! And if you can, come here during sunset for stunning views overlooking the surrounding landscape.
* * * * *
» Banteay Srei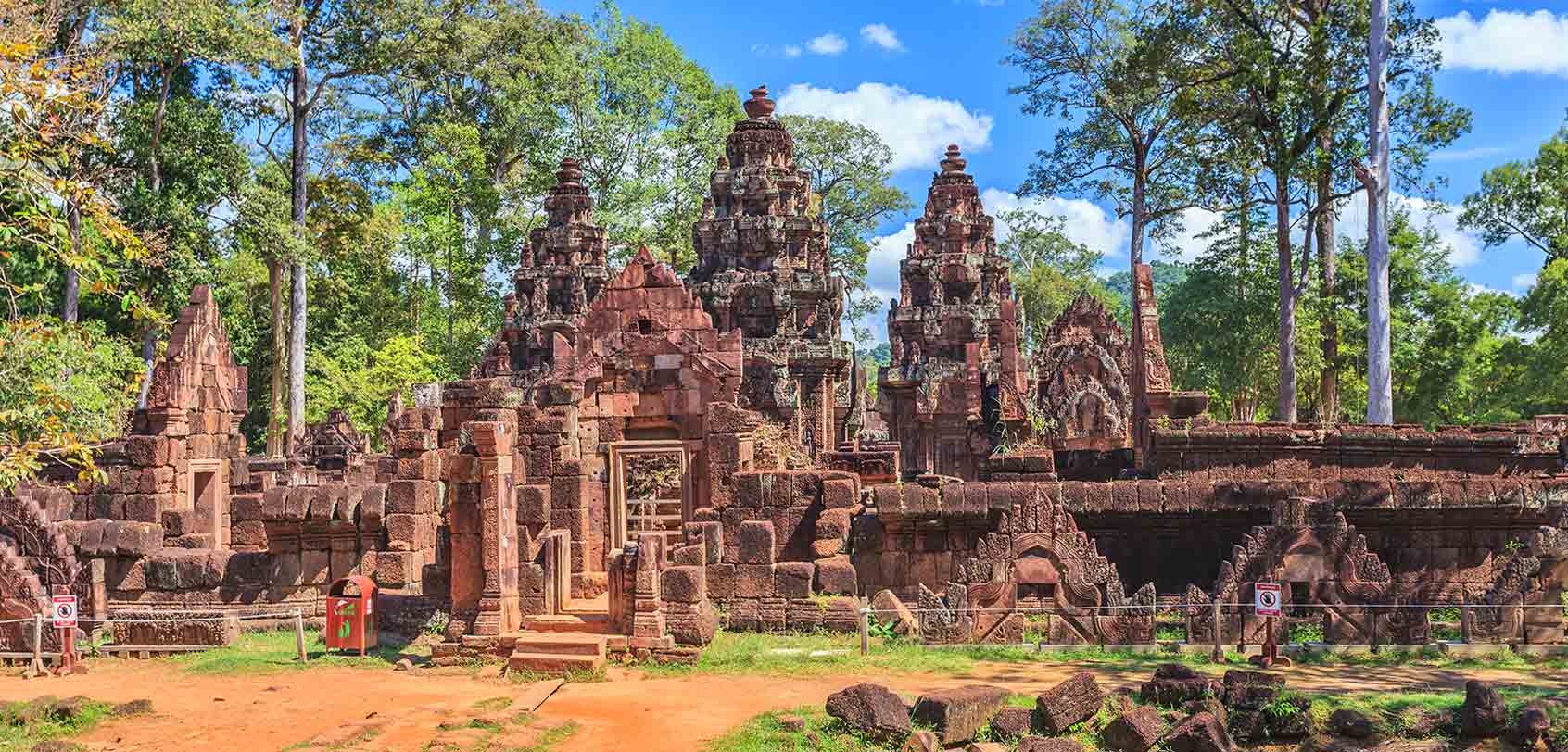 Photo from Noppasin Wongchum/Shutterstock
(1 hour away) Dedicated to the Hindu god, Shiva, the name Banteay Srei means "Citadel of the Women" or "Citadel of Beauty". It may be one of the smallest temples but what it lacks in size makes up for its intricate structure with some stones exhibiting a pinkish hue.
*This is also covered by the Angkor Pass.
* * * * *
» ★ Beng Mealea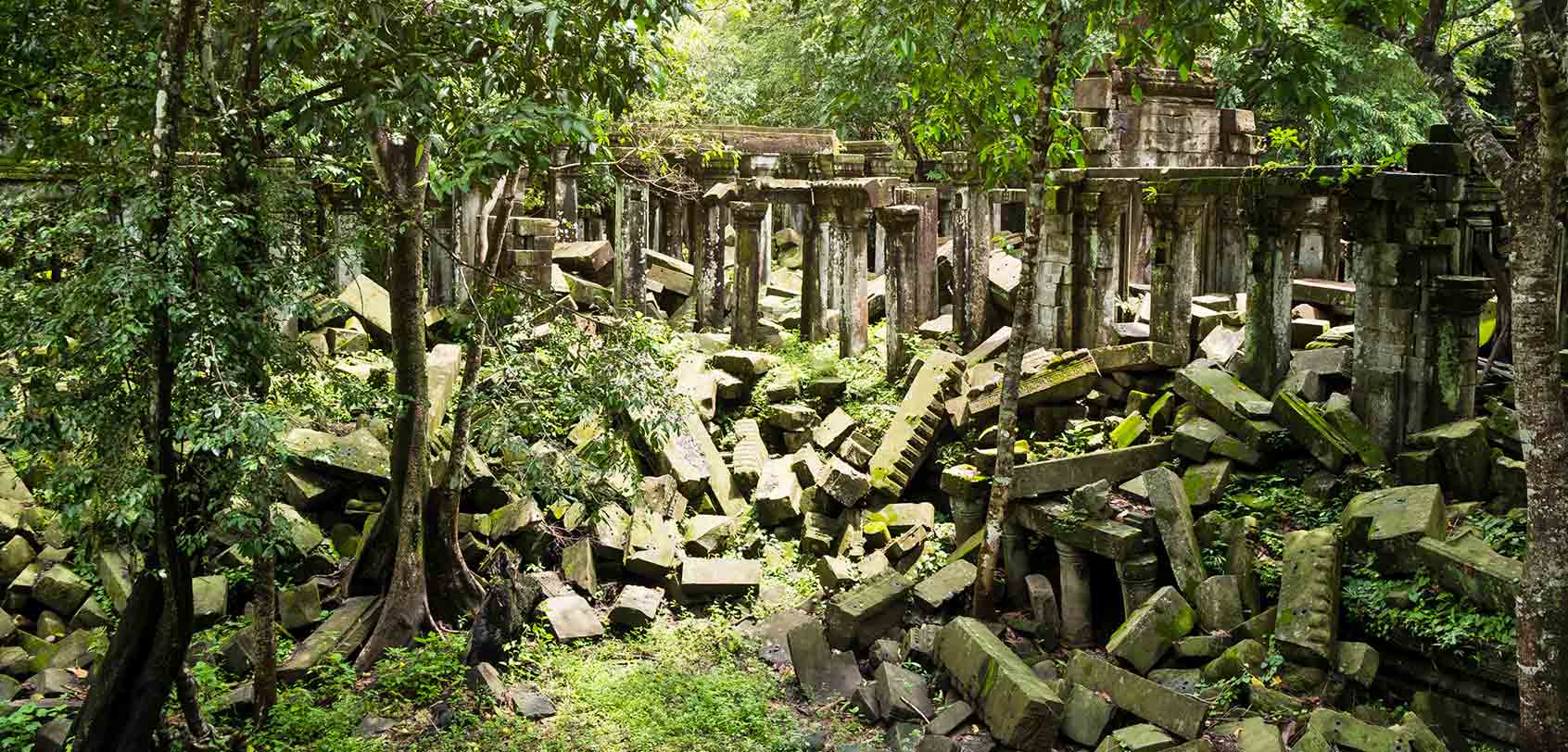 Photo from LightRecords/Shutterstock
(1.5 hours away) If you want lesser people but with the same 'Tomb Raider' or 'Indiana Jones' ambiance, then head over to Beng Mealea! Shrouded in a dense jungle, it is somewhat of a hidden gem as you make your way through its crumbling stone blocks.
You must know though that it is largely unrehabilitated so there are spots where you'll have to climb up with your own hands — so be cautious (it will really help make you feel like you're on your own treasure hunting trip). With this fact alone, it's best to book a tour so that a guide can help ensure your safety.
*This is NOT covered by the Angkor Pass.
* * * * *
» Koh Ker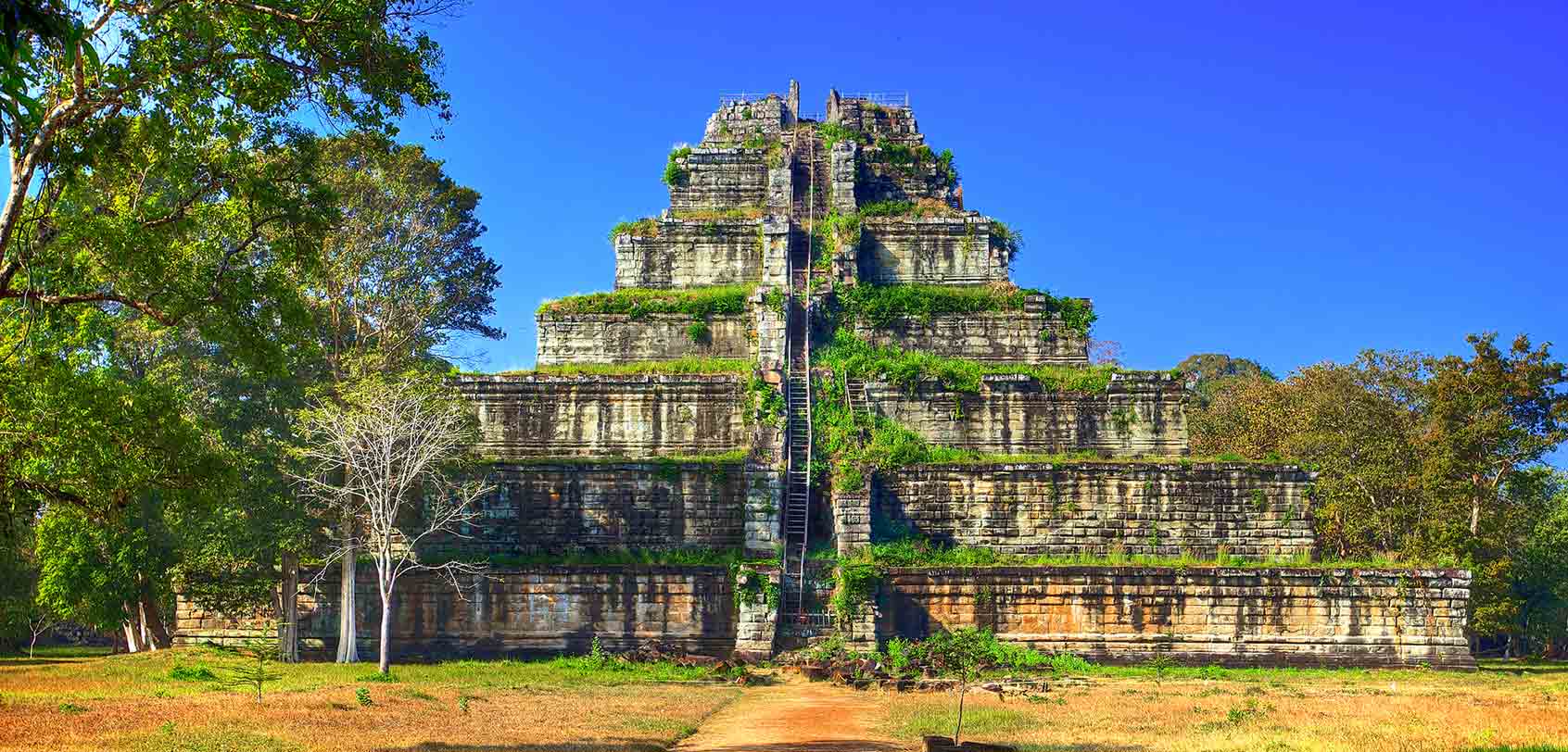 Photo from Cocos.Bounty/Shutterstock
(2 hours away) This is an archeological site that is largely still hidden by the forest. However, the most significant of its temples will be Prasat Thom, which is an impressive stepped 7-tier pyramid!
You can easily include this stop in your Siem Reap itinerary if you book a Beng Mealea tour online.
*This is NOT covered by the Angkor Pass.
.
» Phnom Kulen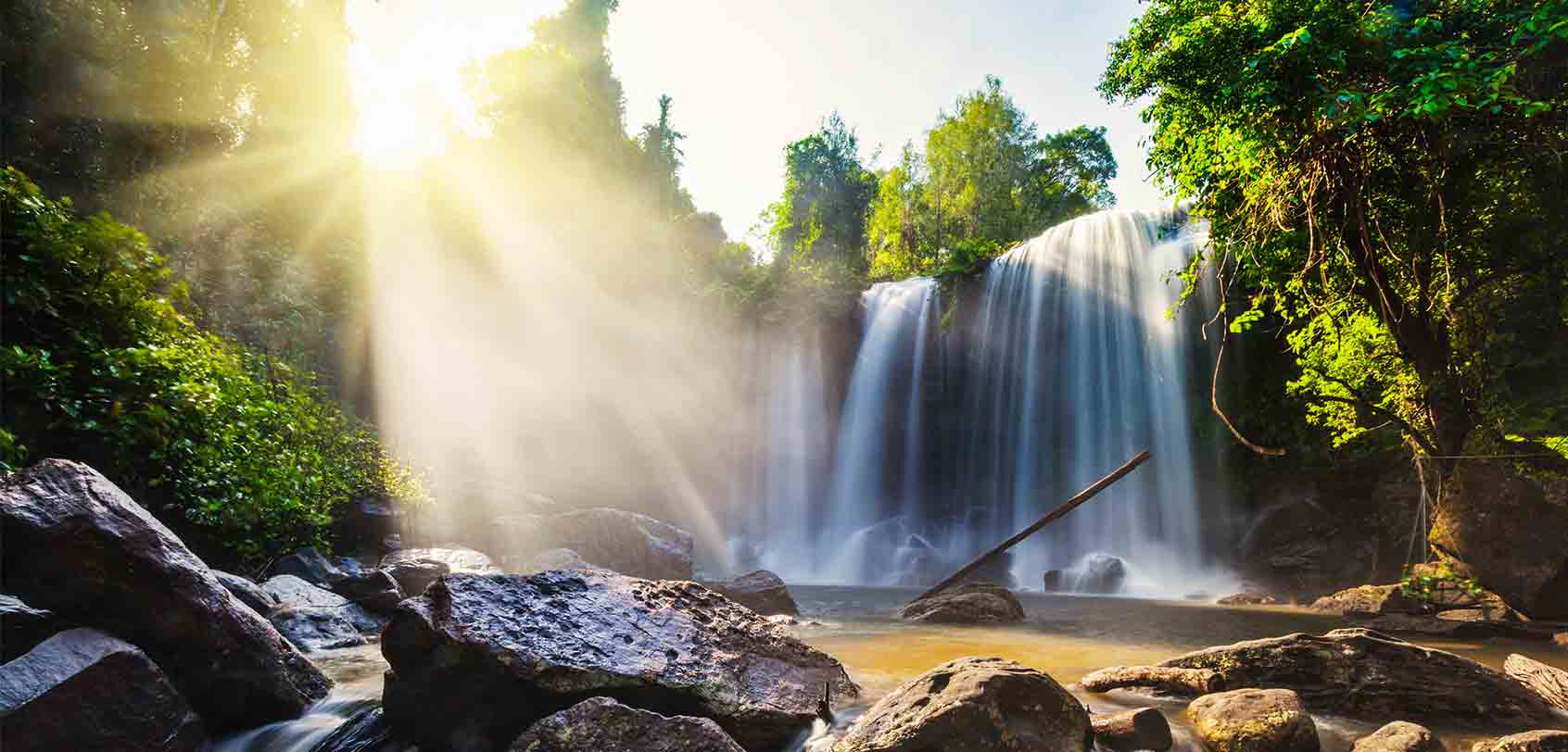 Photo from Dmitry Rukhlenko/Shutterstock
(1 hour away) In case you just want to visit just one outside temple and then dedicate the rest of the day into something else, then how about a visit to a beautiful waterfall at Phnom Kulen?
The main attraction here is the waterfalls at the top and it's such a great picnic spot! On the way here, you can stop by the Thousand Lingas and the Preah Ang Thom pagoda with its giant reclining Buddha.
* * * * *
» Visit the night markets!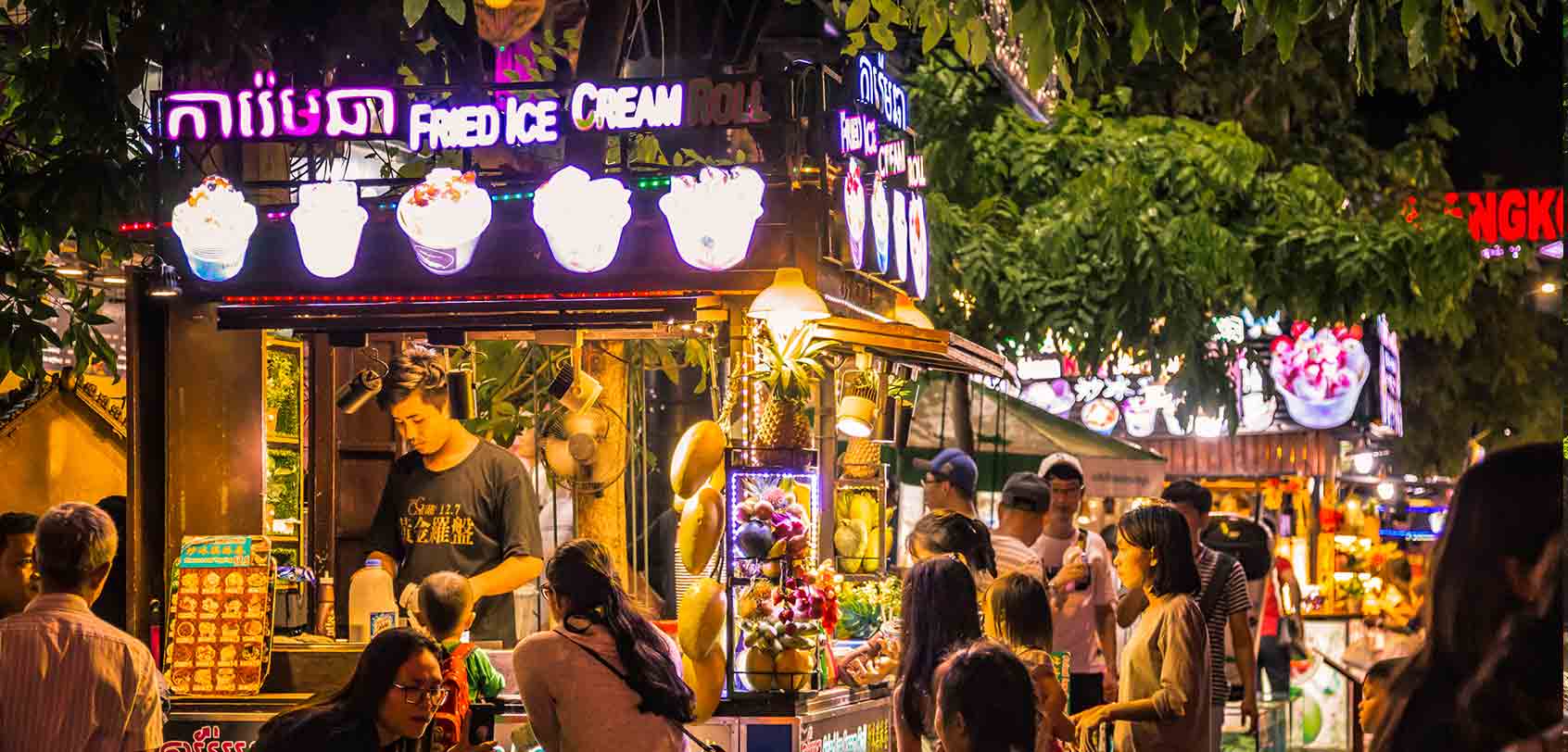 Photo from C.Lotongkum/Shutterstock
Most of these night markets are concentrated in the downtown area and they offer a range of local handicrafts, souvenirs, fresh produce, food stalls and so many more! Definitely a must to do for your Siem Reap itinerary.
Angkor Night Market: (Sivatha Boulevard) Open daily from 4PM to midnight.
Angkor Handicraft Association: (Road 60) If you want to see products of local artisans and support their work, this is the place to go, and it's open from 9AM to 7PM daily.
Made in Cambodia: (Street 27) Held every Saturday, Sunday and Tuesday from 12PM to 10PM, they are a bit pricier but you'll find a lot of good finds!
Noon Night Market: (Sivutha Boulevard) There is much to see, buy and eat here and it's open daily from midday to midnight.
Old Market: (Psar Cha) This is the oldest Khmer market in Siem Reap and it opens from 7AM to 8PM.
If you're craving for some local cuisine, apart from the food stalls on the markets, you can check by restaurants like SalaRussey, Sugar Palm, or Chenrey Tree. (Try out some cool snacks too like the fried ice cream sold in small stalls).
If you're wondering about the Cambodian dishes that you must try, it would be:
★ Fish Amok: Fish in a creamy coconut-based curry
Khmer Curry: Milder than curries found in Thailand
Kuy Teav: Noodle soup made from pork or beef bones and rice vermicelli
Lok Lak: Made of stir-fried stips of tender beef above a bed of vegetables
Nom Banh Chok: A common street food made of thin rice noodles topped with cucumber, basil, banana leaves and green fish curry.
* * * * *
» Spend the rest of the night on Pub Street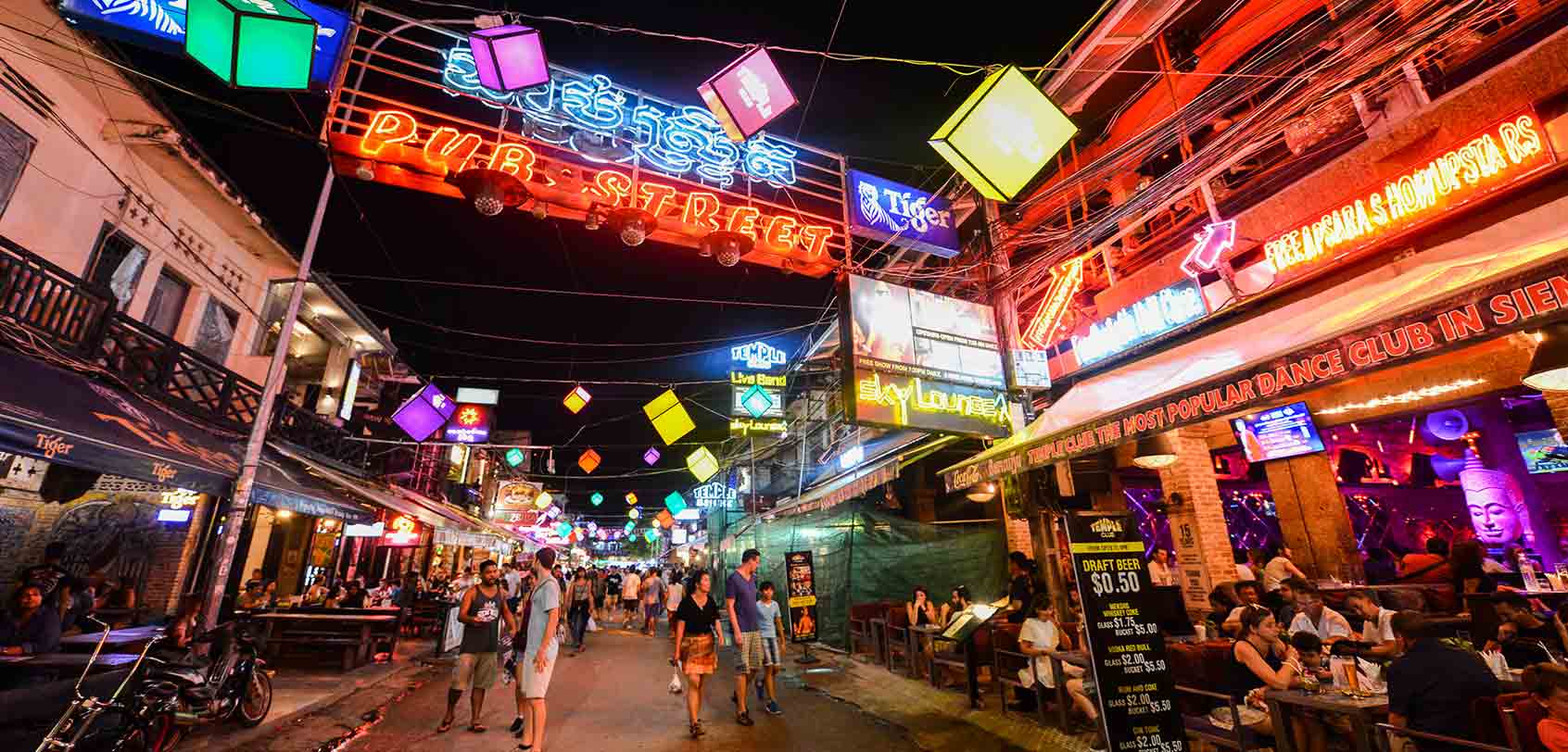 Photo from kikujungboy/Shutterstock
This is a short alley that's filled with a number of bars, clubs and restaurants. From 5PM onwards, the street is blocked and it comes alive with flashing lights and sounds of cheer and (affordable) beer bottles clinking.
There are a number of places to get your fill but here are some of the top bars to check out during your Siem Reap itinerary:
★ Angkor What? Bar: The pun-ny name aside, this is Pub Street's first bar and visitors are welcome to leave a graffiti mark of their own on the bar's walls.
Barcode Siem Reap: A popular LGBT bar and lounge with sophisticated decor and even a spa for men!
Little Mitchy's Lounge: If you're looking for a more relaxed scene, this should be on your list.
X-Bar: You'll love the open-air rooftop which has a 6-feet skateboard halfpipe, and its open mic sessions every Wednesday evenings. Every other night of the week, there will be a live DJ or band playing.
* * * * *
» Or how about a massage?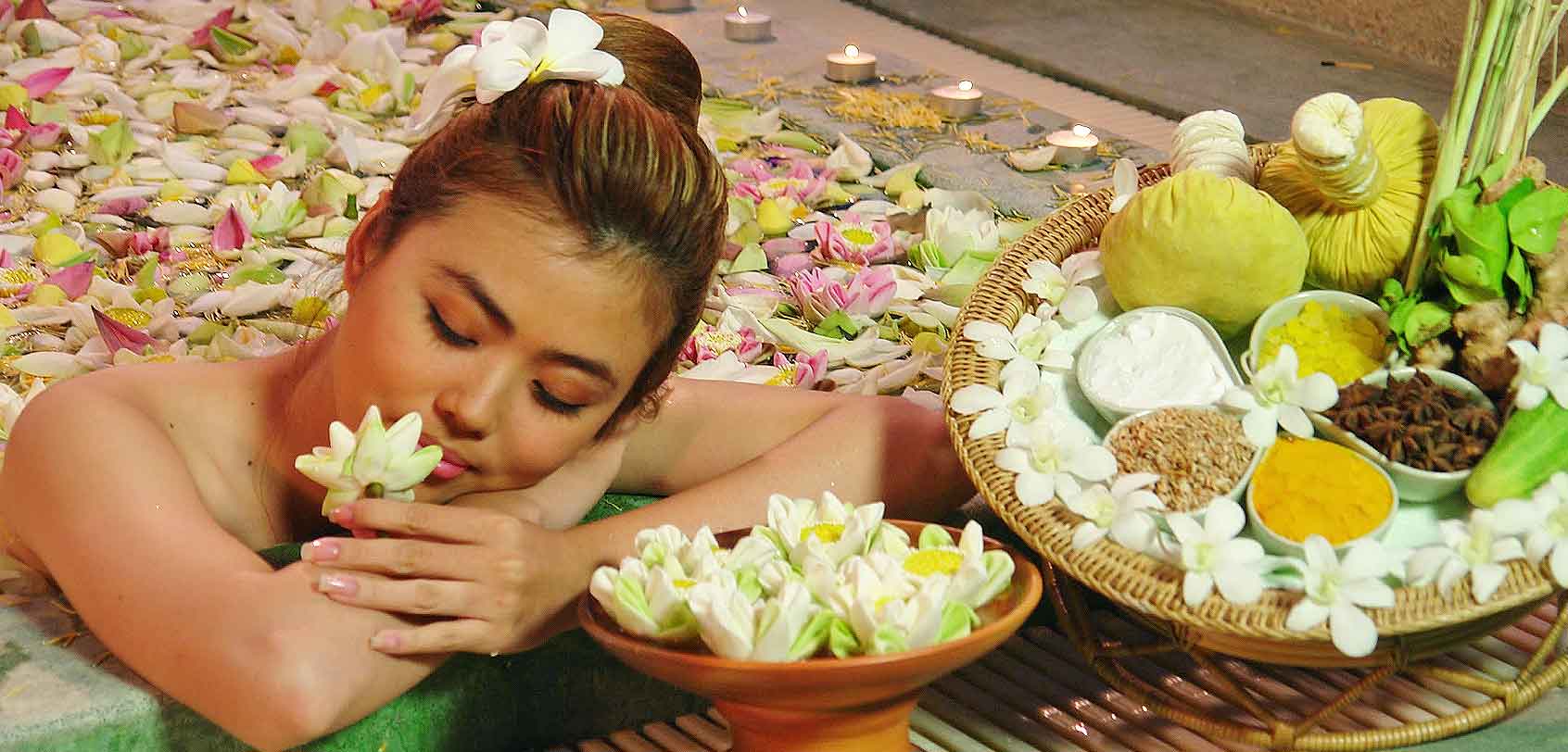 Apart from the peculiar 'fish massage' stalls that you'll find around Pub Street or the night markets, Siem Reap has a lot of affordable and luxurious spa places where you can unwind and rest your body after a day of exploring temples!
Come pick your fancy from any of the below:
Enjoy the rest of Siem Reap
It's time to take a rest from all the temple exploration and explore a bit more of what the city has to offer!
» Do a quad tour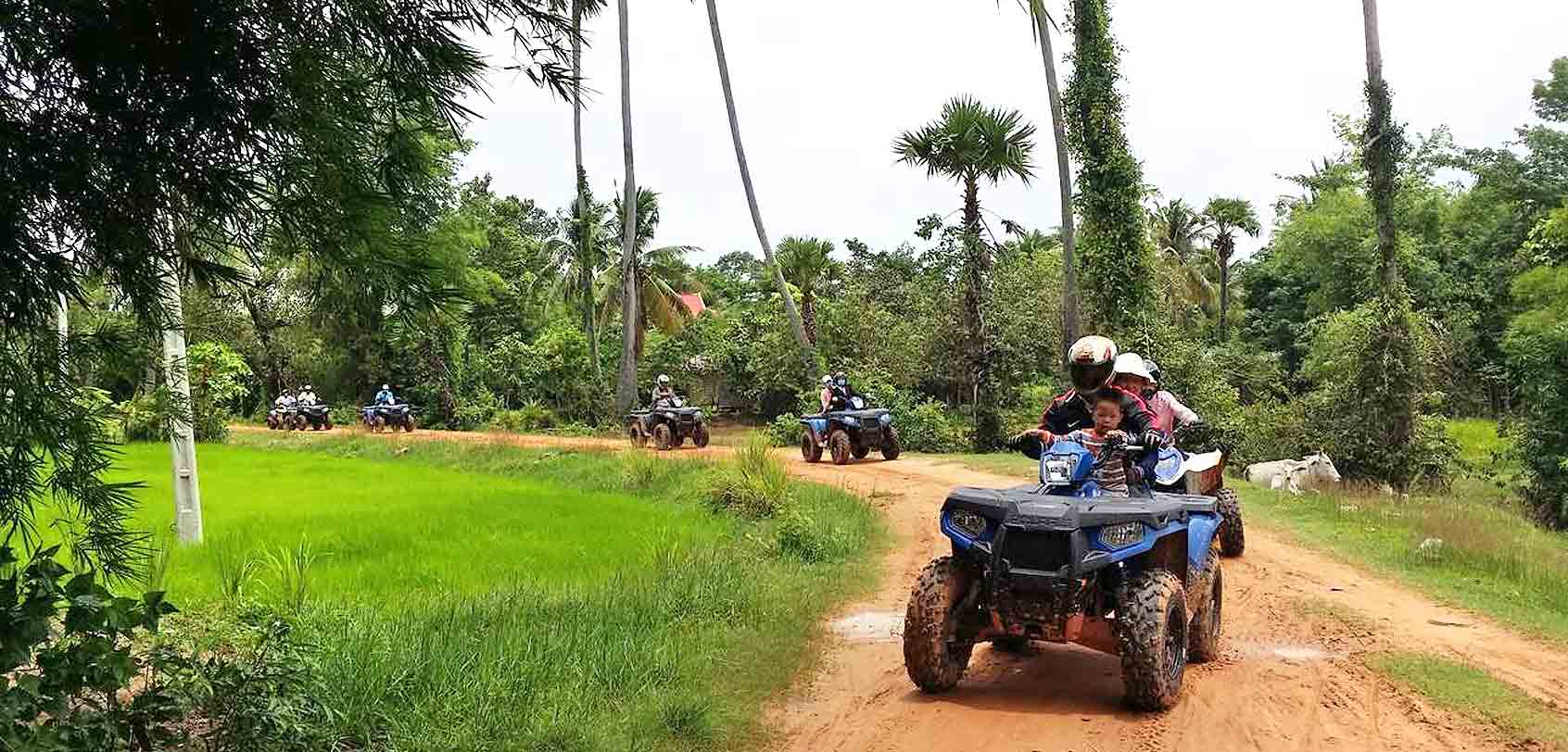 Come and discover the countryside for your Seim Reap itinerary with an enjoyable quad bike adventure! With your choice of a morning or sunset bike, you can take the road less traveled as you go through rural villages, Buddhist monasteries, temples, and even a visit to a rice paddy field.
Depending on your comfortability as well, you can choose to ride a quad bike alone or with a guide. To book your tour spot along with your family and friends, you can reserve online.
TIP: Don't wear anything in white as it will be dusty (or muddy in case it rains).
ALTERNATIVE: If you rather feel like doing something up in the air, how about a zipline activity inside the UNESCO Angkor Archaeological Park?
* * * * *
» Rent a bike and explore the city scene and cafes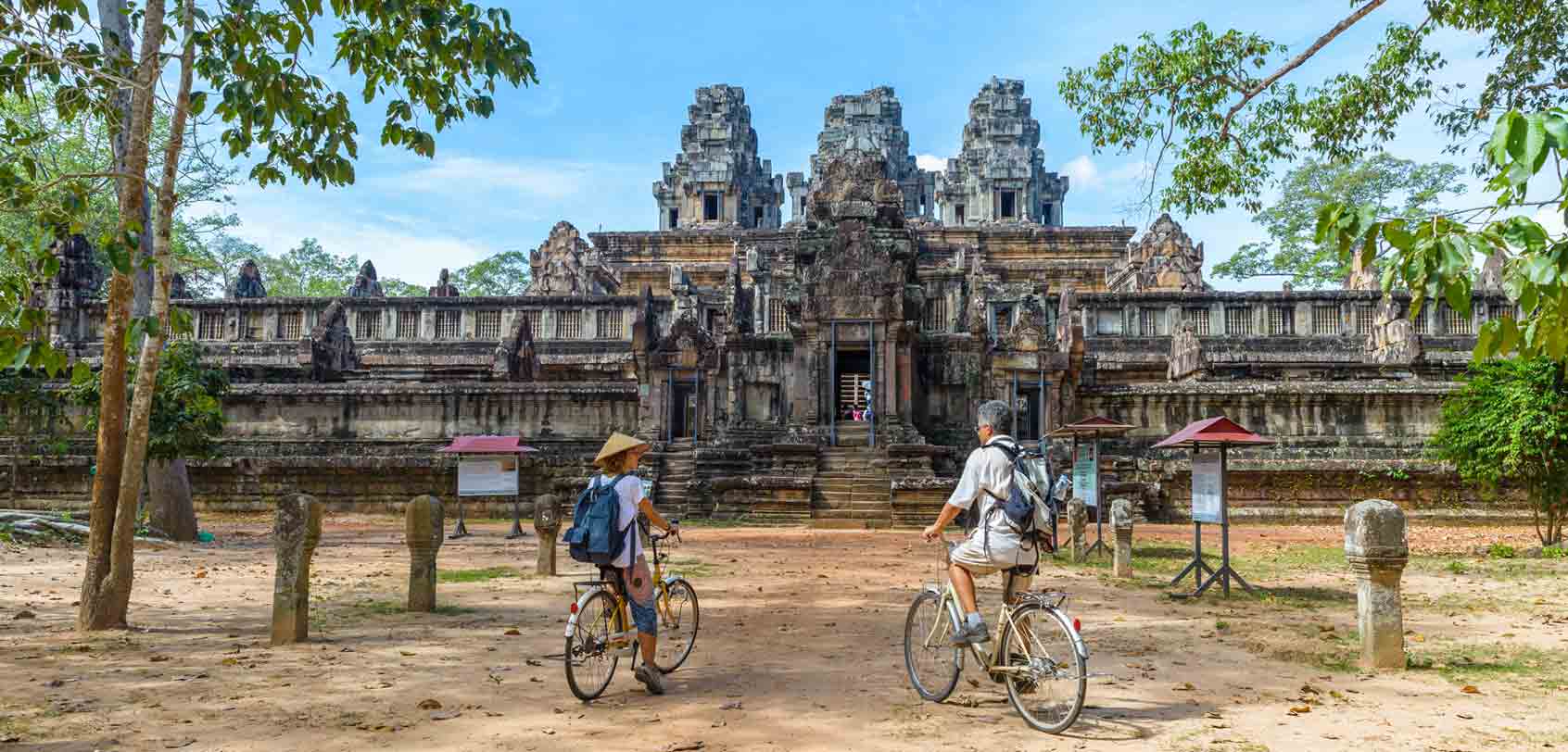 Photo from Fabio Lamanna/Shutterstock
For a chill afternoon, why not rent a bike as you go around the streets of Siem Reap, making stops to take photos or just lounge at a cafe?
In fact, for lunch or for an afternoon snack, I would recommend the following socially responsible restaurants and cafes:
Bloom Cafe: Their women staff, who are from poverty and dire circumstances, are given the chance to go through vocational training and now they can whip up really good cupcakes and cakes!
★ Haven Restaurant: They provide vocational training to young adults who are from orphanages or safe shelters, and they make up a part of the kitchen staff that serves both Asian and Western dishes. (Try out their burgers here, they are quite good!)
Sister Srey: The staff are local Khmer who are supported through university and they ensure to use organic produce that supports the local community. (There are also vegan and vegetarian selections here).
Spoons: This is a beautiful cafe and restaurant that reaches out to underprivileged young adults. A must-try? Their coconut rice cake! It's divine!
ALTERNATIVES:
– Are you more into history? Visit the Angkor National Museum that houses treasers and artifacts from the golden era of the Khmer Kingdom.
– Or do you want a hands-on activity for your Siem Reap itinerary? Then come and join a ★ Cambodian cooking class with a local chef! It will definitely be a fun activity, and by the end of it, you'll get full too *wink*
* * * * *
» Watch a local show for the night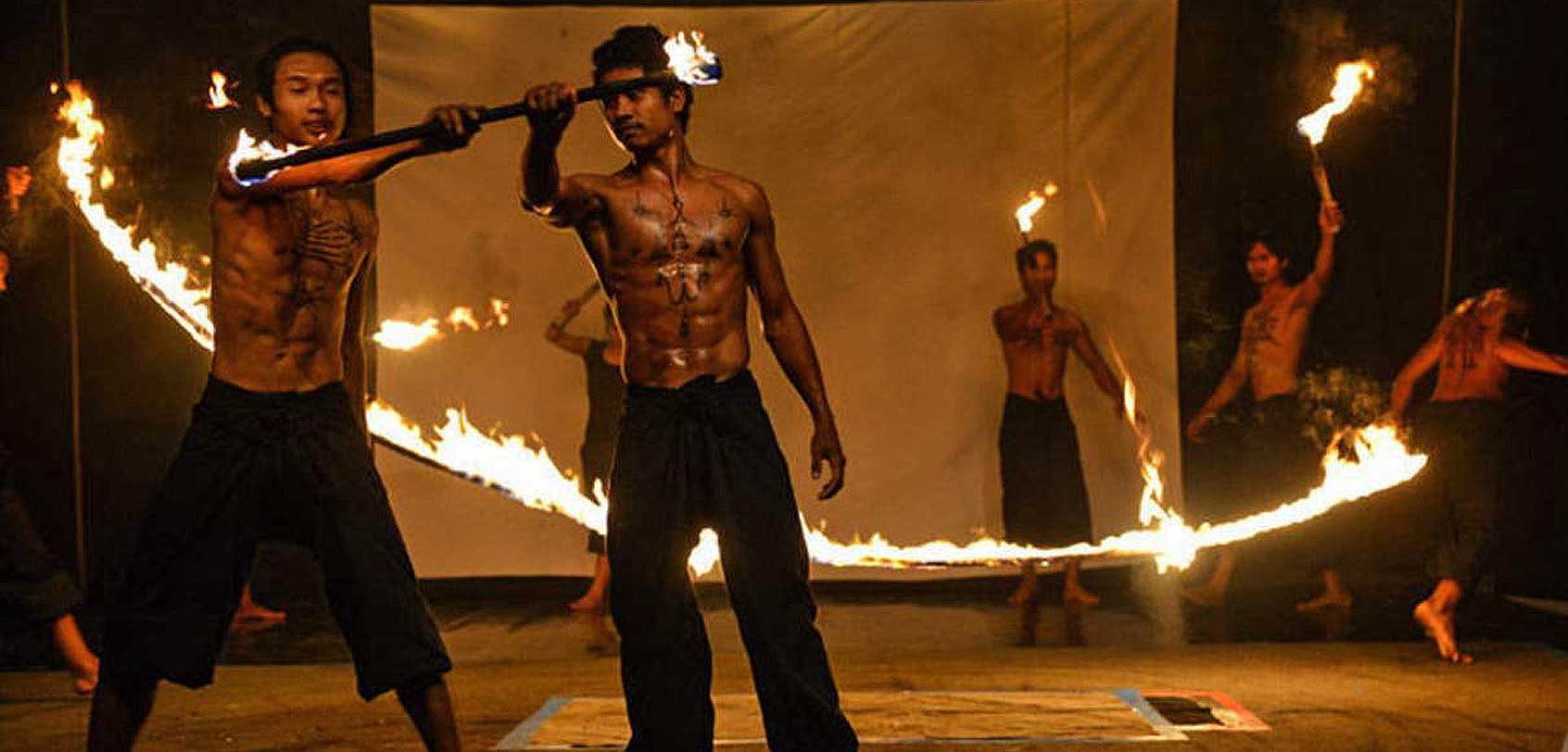 Apart from the Apsara show that I've previously recommended, there are also other performances that you can check out…
★ Phare, The Cambodian Circus Show: show as it only makes use of young local performers who do an amazing blend of theater, music, dance, acrobatics and more! The shows vary and are performed in Khmer but fret not because there are English subtitles on the screen. What's more is that this is a project of a non-profit organization that is founded by young Cambodian ex-refugees who aim to support fellow young adults while reviving Cambodian Arts.
Angkor Dynasty: Set in the Angkor Grand Theater, you'll be awed by the show's world-class production, high-tech 4D visual effects, and interactive performances!
Rosana Brodway Show: This is the 1st and only international trans cabaret show in Cambodia and it is filled with extravagant costumes and 16 different set performances that are set to both Eastern and Western music.